We are committed to ensuring our business practices
 are sustainable every day.  As responsible stewards, we continue to work hard to minimize any negative impact our work may have in the countries, and communities in which we operate. Our products and solutions are at work all over the world.  We focus on innovative and differentiated solutions and technologies that add high value to our end-user's applications and processes.  We are committed to operational excellence and innovation that help our customers create the products and services that make our lives better.  For our customers, we are committed to keeping their process control safe, and efficient.  
OUR VALUES
To pursue our goal of delivering innovative solutions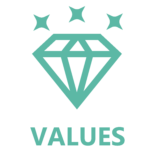 for gas, moisture, and liquid analysis, we are committed to providing the broadest portfolio of proven technologies to optimize, measure, and control both process industry applications, and research and lab applications.  Dedicated to protecting the environment and industry, we deliver our promise in industries such as industrial manufacturing, semiconductor, petrochemical, laboratories and research, and water and wastewater.  Our core values are the foundation of our company.  These values define us on a daily basis; they are the compass that defines who we are, guides our decisions, and influences how we operate.